Jackie worked on nearly a hundred books in her career as an editor. These hundred books reveal more about her than any of the pictures of her clothes and husbands. This was the work she loved. These were the subjects that drew her in over and over again: photography, European court history, the stories of women making their way in a men's world, the philosophy of fashion. She showed her interests, passions and the way she saw the world in the books she selected for publication. These books were the autobiography she never wrote. To take a look at some of the interviews I conducted while doing research for the book, please click here.


"William Kuhn reveals the Jackie I knew as a person and professional: serious, smart, intuitive about ideas and aesthetics, but also down to earth in the sense of understanding the potential audience for a book. In Reading Jackie I learned so much about her I didn't know, and Kuhn tells the story with such flowing grace of phrase and structure. A splendid work."
—Bill Moyers
"Unexpectedly and intelligently dishy ... Quite a fascinating portrait of a complex woman, who had interests and enthusiasms of her class and was allowed to indulge those passions with singular force and focus."
—The Boston Globe
"Sheds new light on the part of Jackie's life that she most clearly chose for herself ... An essential chapter in a remarkable life."
—The Los Angeles Times
"Jackie O loved powerful men, but her passion was for writers ... [Kuhn] reveals some fascinating facts about the literary Jackie.
—O, The Oprah Magazine
"This is a revealing, readable, and insightful book. Readers of biographies of iconic figures will eat this up, as may 20th-century American history or women's studies buffs. Kuhn's respectful approach would probably have met with Onassis's approval."
—Library Journal
"This lucid, amply detailed catalogue of Onassis's publishing projects offers a window into her passions and opaque personality."
—Publishers Weekly
"This is not a startling exposé, but a graceful, perceptive and respectful look (with a bit of behind-the-scenes eavesdropping) at a most unlikely working girl. Kuhn teases out clues to the former First Lady's inner workings through the often controversial book projects that she chose, such as books on Russian culture, the power of myth, the life of Martha Graham and a book of erotic and alluring women (which included images, ironically, of Marilyn Monroe and Maria Callas)."
—Alison Hood on bookpage.com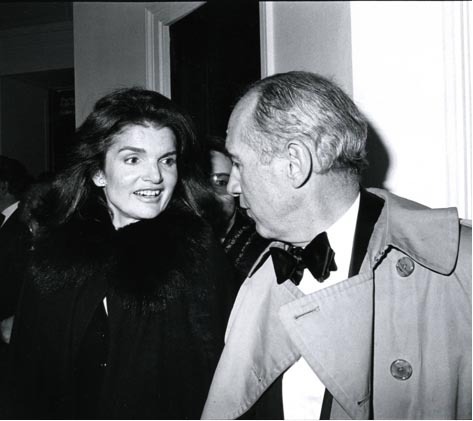 One of the specialties of Jackie's publishing list was art photography. She and William Howard Adams brought out a selection of Eugene Atget's photographs of crumbling royal gardens. Unusually, Jackie also wrote the introduction to this book herself. If you want to get a sense of her voice on the page, take a look at this introduction. She borrows from Edith Wharton to make her point about why she loved these images of decayed grandeur. Adams is a garden historian, an expert on Thomas Jefferson, and the author of a work on luxury. CLICK THE PHOTO OF JACKIE AND ADAMS FOR MORE.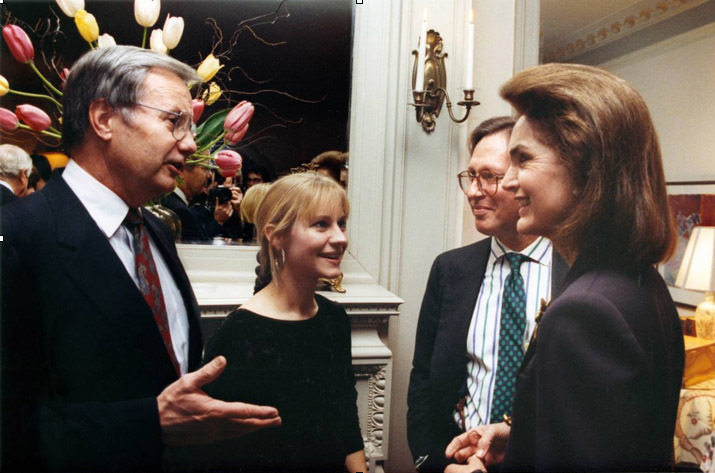 Jackie worked with a number of surprisingly young authors. One was Elizabeth Crook, standing here at the publication party for her novel, Raven's Bride, between Bill Moyers and Doubleday's then publisher, Steve Rubin. Jackie met Crook via Bill Moyers. Her novel described the difficult and tempestuous marriage between rising politician Sam Houston and Eliza Allen. Allen stayed with him only eleven weeks before she left him. This created a scandal that almost destroyed Houston's career. Crook remembered Jackie with affection. She also recalled that in writing a subsequent novel, she found Jackie could be a very tough editor indeed. CLICK THE PARTY PHOTO FOR MORE.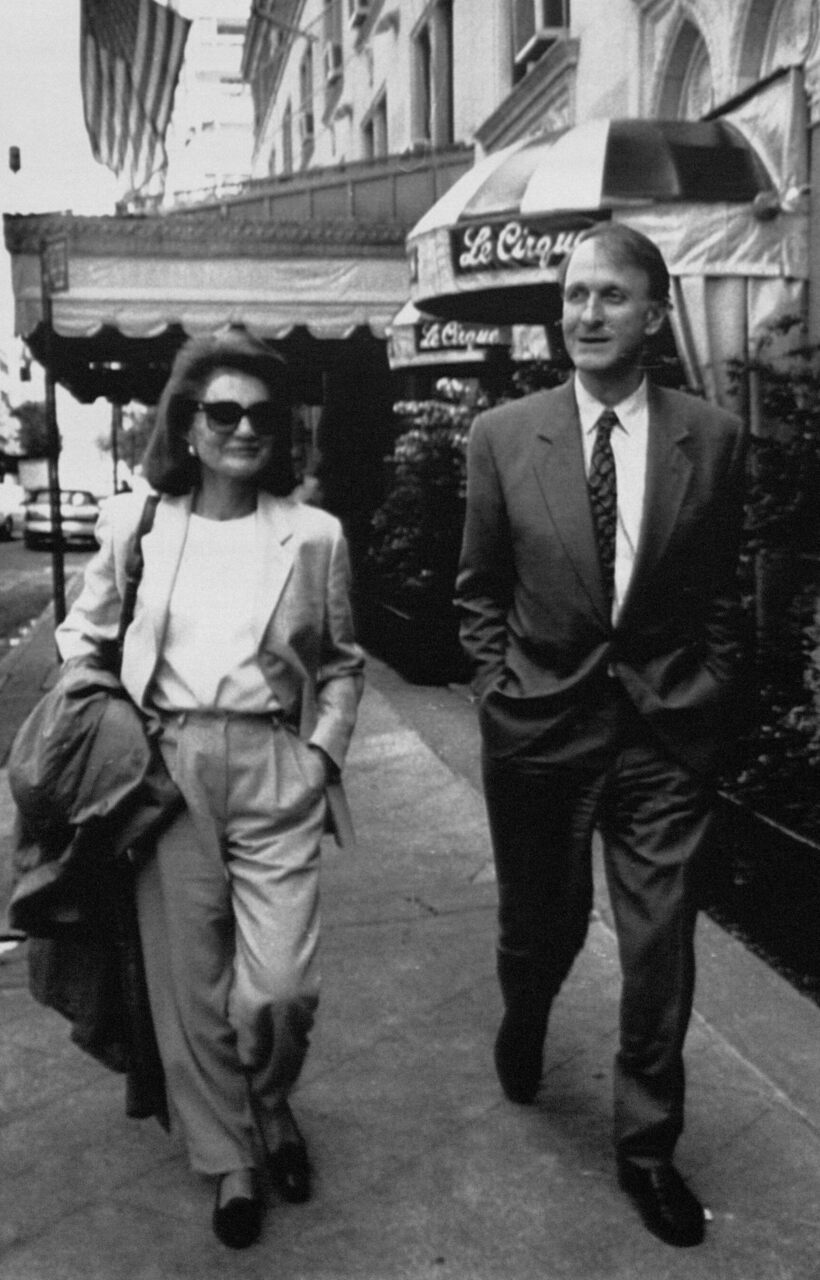 This wedding idea and etiquette book was another in the Tiffany series Jackie worked on with Tiffany design director, John Loring. Once they'd figured out the format, the possibilities for big picture books were endless. Loring and Jackie in this picture have just lunched at Le Cirque in New York. She's dressed in a Diane Keaton Annie Hall suit. CLICK THE PHOTO OF JACKIE AND LORING FOR MORE.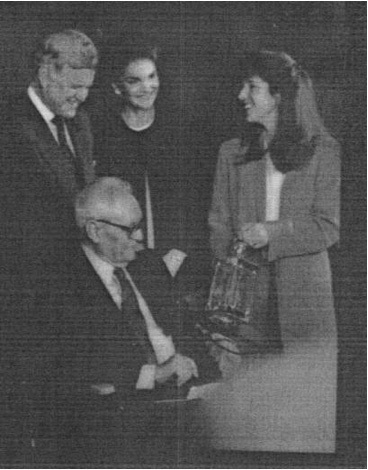 Carl Elliott was a former U.S. congressman who lost his seat in a showdown with Alabama Governor George Wallace. He told his story in The Cost of Courage, which covers racism in the politics of the 1950s and 1960s. Jackie found writer Mike D'Orso to help Elliott tell his story. Elliott was not rich. She helped him not only with an advance from Doubleday, but also by bringing the power of the JFK Library to bear. Elliott won the first Profiles in Courage award from the library foundation. Here Elliott in a wheelchair is with Senator Edward Kennedy, Jackie, and Caroline Kennedy Schlossberg at the awards ceremony. CLICK THE GROUP PHOTO FOR MORE.





Diana Vreeland and Jackie collaborated on ALLURE, Vreeland's collection of photographs which capture female magnetism. Ironically, Vreeland featured two women in the book whom Jackie had reason to resent. It was rumored that JFK had had an affair with one of these women, Marilyn Monroe. Onassis carried on an affair with the other, Maria Callas, even while married to Jackie. Somehow Jackie was able to rise above her personal history with these women to back the work of an author, Vreeland, in whom she believed. CLICK THE PHOTO OF VREELAND AND JACKIE FOR MORE.





Jackie got involved with the project of Michael Jackson's memoir, MOONWALK, only reluctantly. Jackson had told Doubleday he'd only do the book if Jackie was his editor. She agreed because she knew it was a commercial project and it would support some of her less profitable books. Jackie turned down Jackson's first draft because it sounded too much like a series of publicity releases. She told him it had to have some serious things in it. Why didn't he talk about what it was like to be black in the entertainment industry? Jackie's deputy Shaye Areheart, later an important publisher in her own right, had to fly around the world to coax Jackson to put the book together in between concerts. CLICK PHOTO OF JACKIE AND JACKSON FOR MORE.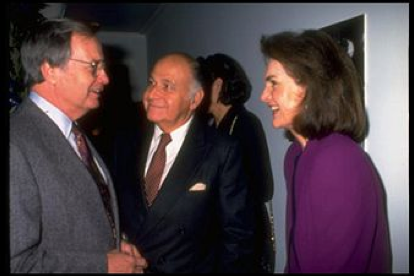 Jackie saw Bill Moyers interview Joseph Campbell on TV about Campbell's fascination with comparative world religion. She told Moyers this could be a book. Initially skeptical, she won him over to the idea. In their conversations Moyers and Campbell considered how an ordinary person could be transformed, by an extraordinary event, into a kind of goddess. They were talking about what happened to Jackie in 1963. This is one of the few times Jackie ever allowed a disucssion of her own status as an icon into print. In this photograph, Jackie and her friend Maurice Tempelsman are at a launch party with Bill Moyers. CLICK THE PHOTO FOR MORE.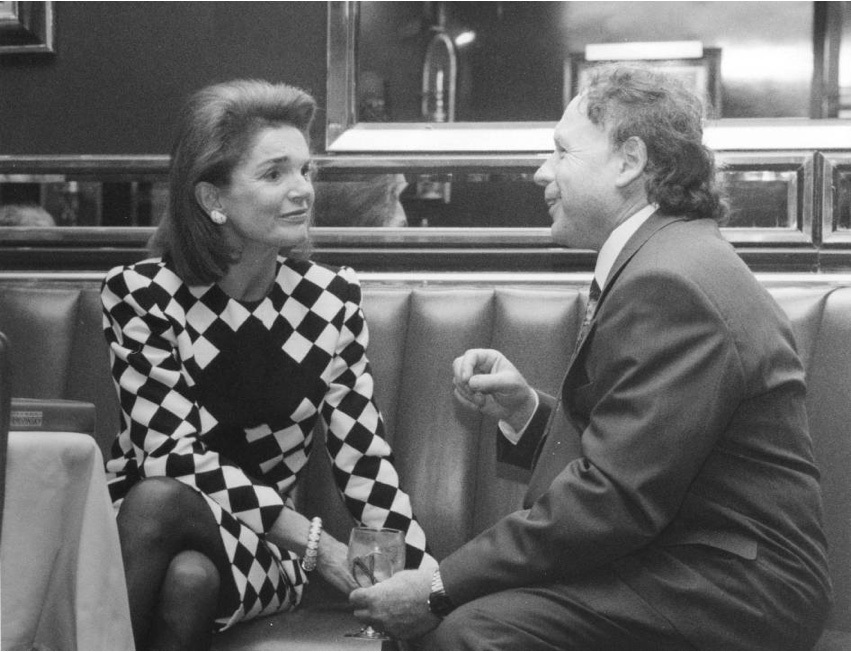 Jackie attended the launch party for Edvard Radzinsky's THE LAST TSAR at the Russian Tea Room in 1992. As you can see from the pained photo on Jackie's face, Radzinsky was something of a talker and it was hard to get a word in edgewise. Radzinsky believed that Jackie chose to publish his book on the murder of Tsar Nicholas the II and his family because "it was about a cruel assassination." He thought she identified with this. Others who worked on the book were not so sure. Nevertheless, it was one of her bestsellers and she was proud of the book. CLICK PHOTO OF JACKIE AND RADZINSKY FOR MORE.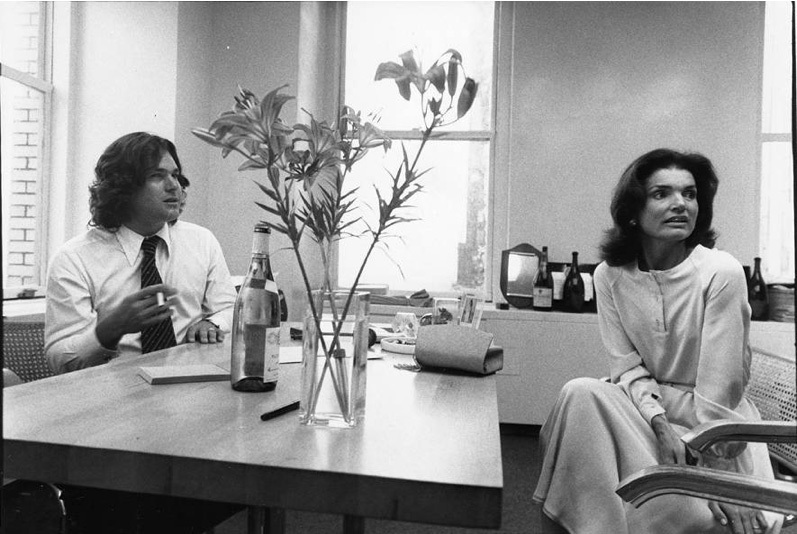 Jackie collaborated with Rolling Stone editor Jann Wenner on this collection of essays called THE BALLAD OF JOHN & YOKO. It came out soon after John Lennon's murder in New York. Jackie rejected Jann Wenner's first draft of the introduction. She insisted that as he'd known Lennon from the start, he needed to make his introduction more personal. CLICK PHOTO FOR MORE.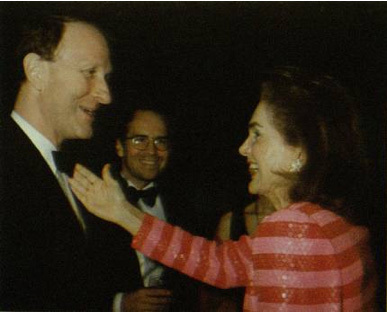 This was one of a series of Tiffany books that Jackie worked on with Tiffany design director, John Loring. Loring remembered Jackie's irreverent and off-kilter sense of humor. When they'd discovered the book format worked, she told him, "Oh John! Isn't it wonderful? Now we can just go on and on. Next we'll do Tiffany Mushrooms." CLICK THE PHOTO OF LORING AND JACKIE FOR MORE.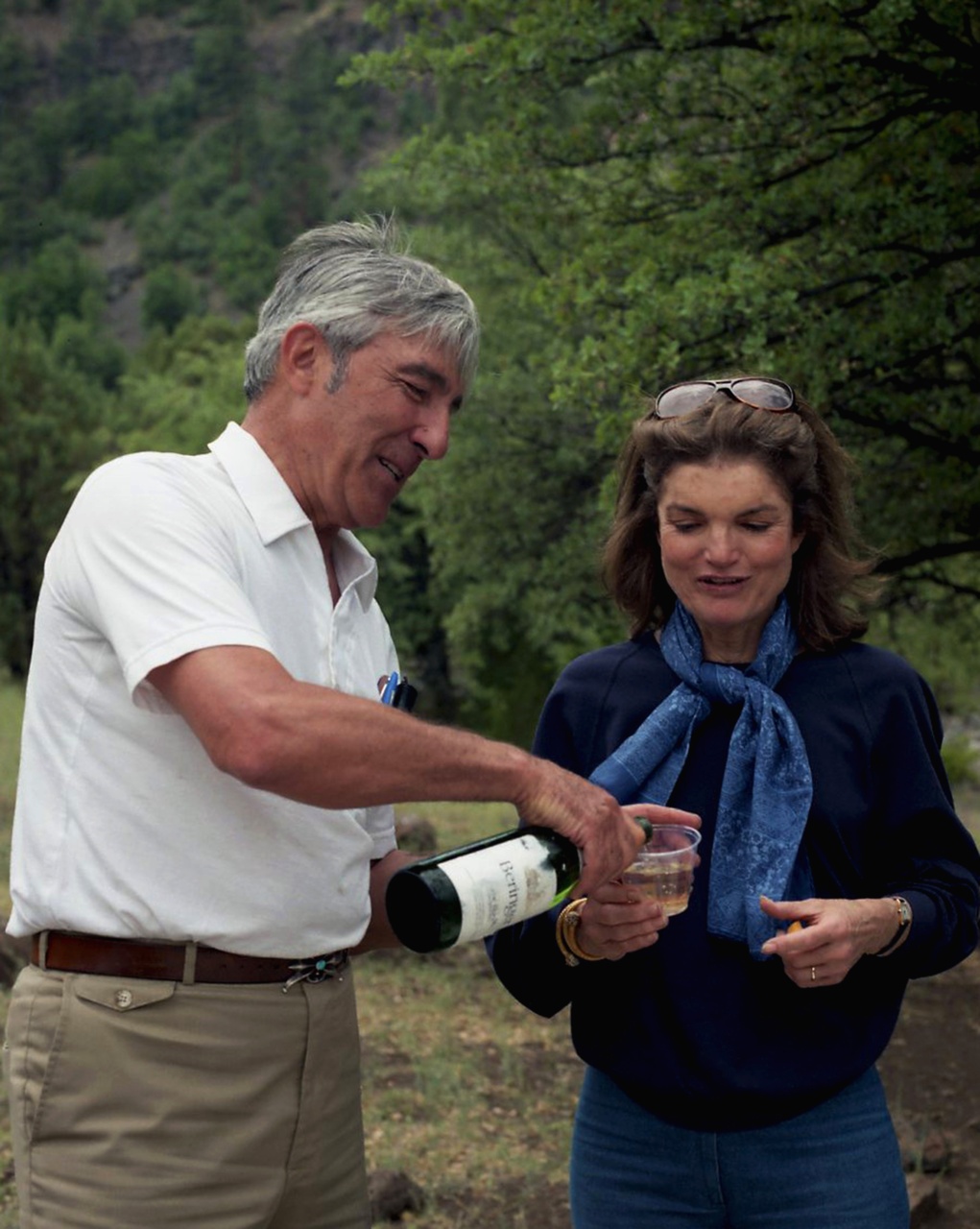 Here's the paperback version of a book Jackie did with Stewart Udall and photographer Jerry Jacka. She knew Udall from the Kennedy White House. He re-connected with her at Doubleday and persuaded her to come out to the Southwest for a hiking trip. They retraced Coronado's trail through Arizona and New Mexico. She loved Udall, but didn't like the first version of his text and sent it back to him for revision. CLICK THE PHOTO OF UDALL AND JACKIE FOR MORE.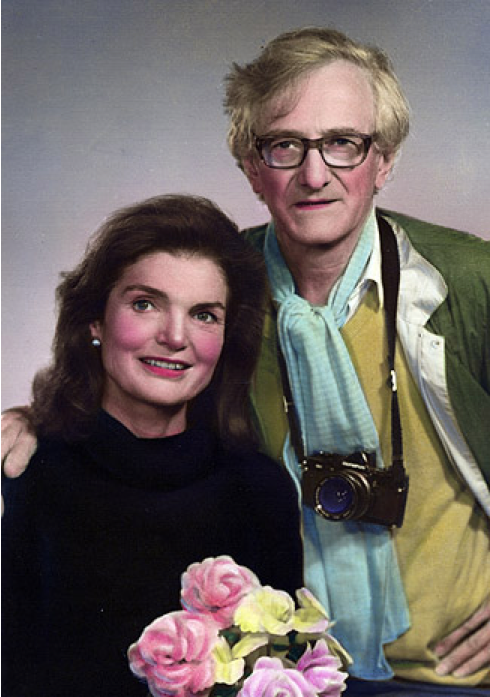 Jackie first met French photo-journalist Marc Riboud in Paris when she was still married to Onassis. They later became friends and Jackie commissioned Riboud's book, CAPITAL OF HEAVEN (1990). He photographed a Chinese mountain often visited by lovers and newlyweds. She once met Riboud once while he was working in China. She was so enchanted at not being recognized there, that she agreed to have their photo taken together at a Chinese photo studio that specialized in wedding pictures. When Riboud met Jackie again at a party in her New York apartment, he teased her by saying, "I have the picture of your wedding with me. Voila!" CLICK THE PHOTOGRAPH OF JACKIE AND RIBOUD FOR MORE.